Name: Megan
Tel: +86-533-8401127
Fax: +86-533-8401156
E-mail: dexingglow2017@gmail.com
Add: No. 8 Shihua nan Road, Zibo, Shandong, China.
Skype: cassiemu1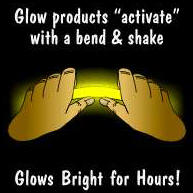 How to Use the Glow Sticks
(Note: Maybe you don't find this video when IE browser view this website, pls see youtube.com ⇒ https://youtu.be/8O8RdjBnaIo...
More>>
What is Glow Stick?
A Glow Stick is a piece of plastic tubing in which a special GLOWING liqu...
More>>
Why "GlowFun"
(1) We know Glow Product more! We can manufacture the glow products with your speci...
More>>
Total: 3
Page: 1 / 1
First
←Previous
Next→
End